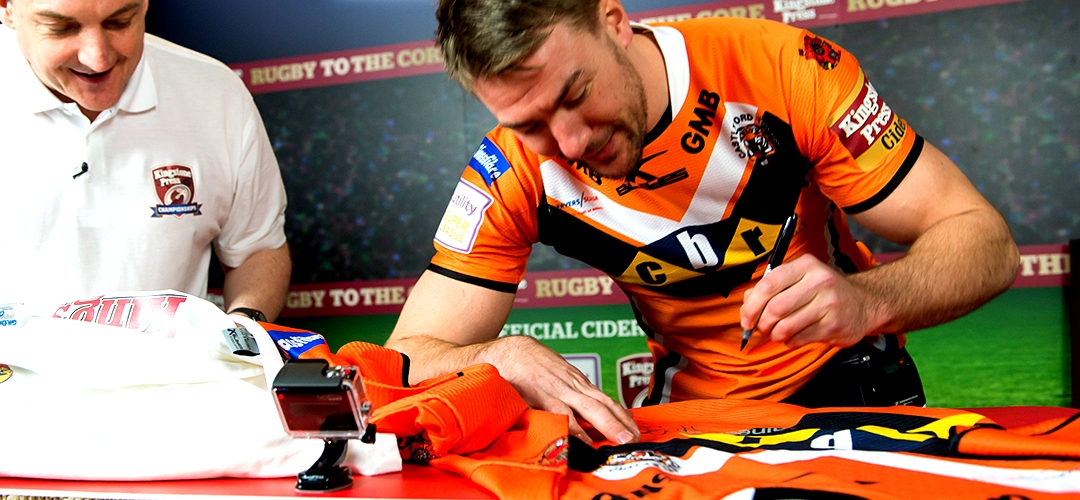 SHENNY'S THOUGHTS
Posted: Monday 31st August 2015 - 3:16 PM
Captain Michael Shenton looks ahead to Thursday's big game v Huddersfield Giants.

After Saturday's loss to Catalans Dragons, Tigers captain Michael Shenton took the chance to share his thoughts as the team head in a crucial week of training ahead of next Thursday nights big game v Huddersfield Giants at at John Smith's Stadium.

"Last weeks game wasn't great, we know going over to France is one of the toughest fixtures you can face but that isn't an excuse for that performance we served up. If we want to be genuine title challengers we need to be able to go to places such as Catalans and get the job done against adversity." said Shenton 
"Our toughness as a team got questioned at the weekend and it kills me to say we came up short in that department and we need to sort that out asap because we've got the four biggest games of our season in front of us and they'll all top 4 teams." 
The team have knuckled town in training this week to right the wrongs from Saturday's game:

"The reaction has been good and this weekend will be good for us to freshen up and get ourselves ready for what is going to be a huge game against the Giants."

Shenton, along with Ben Roberts and Ash Gibson all left the field injured during Saturday's game, with Roberts and Gibson both now getting the all clear. Shenton's dislocated shoulder is still a concern:    
"Thank you for all the messages I've received regarding my shoulder injury. I've had all the scans and seen the shoulder specialist and even though there is quite a bit of damage within the shoulder my physical tests are pretty good so there's a good chance it'll heal with just a lot of rehabilitation work." 
Shenton and the team take great pride in the amazing Castleford Tigers family and the fantastic support both home and away:

"Our fans support means so much to us. To see those fans make that trip to France last weekend was pretty special and I'm gutted we served that performance up for all the effort you guys make. But as always we need everyone behind us going into these last few games and we're still in a position to do something very special this year." 
Tickets for Huddersfield Giants v Castleford Tigers on Thursday 3rd September are available to purchase now from the Tigers Den and online here.

*Photograph courtesy of SWPix