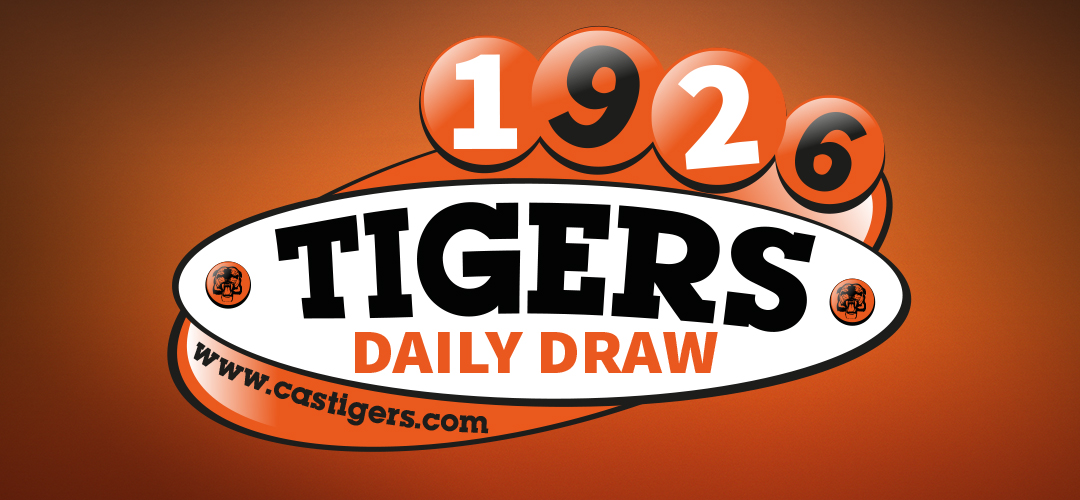 This weeks Tigers Daily Draw winners
Posted: Friday 20th February 2015 - 2:00 PM
Drum roll please.......... we're about to make lots of Tigers fans winners! The Tigers Daily Draw, sponsored by Peter Ambrose Peugeot, has five new £100 winners this week:

£100 Monday - A6990 BM RICHARDSON, NORMANTON
£100 Tuesday - B8147 PAUL GLOMB, CASTLEFORD
£100 Wednesday - A4667 BM RICHARDSON, NORMANTON
£100 Thursday - C8986 CHRIS HOPE, LEEDS
£100 Friday - A7681 IAN WARD, SHIPLEY
 
Stand by for a £100 winner every weekday, with over 30 additional weekly prize winners. Plus a draw for £1000 cash will take place every three months, so make sure you are in with a chance for the next £1000 draw that will take place in March. Every Friday we'll update you with all our lucky winners.

Click here if you'd like to join or call Joanne Riding on 01977 552 674 for further details.
Here are all our winners this week:
Week 5 Winners 
£100 WINNERS
£100 Monday - A6990 BM RICHARDSON, NORMANTON
£100 Tuesday - B8147 PAUL GLOMB, CASTLEFORD
£100 Wednesday - A4667 BM RICHARDSON, NORMANTON
£100 Thursday - C8986 CHRIS HOPE, LEEDS
£100 Friday - A7681 IAN WARD, SHIPLEY

5 x £10
B9512 M CLIFFORD, CASTLEFORD 
C0655 M CHILD, CASTLEFORD
C1502 B POOL, CASTLEFORD 
C4184 E JARVIS, PONTEFRACT
C2551 B HIGGINS, CASTLEFORD
£5 Voucher
D8924 P STOREY
B7500 MRS CALE
A6470 R BROOKS
A8041 V HOULKER
A4558 A GETLIFFE
A8042 R HART
D9973 MR & MRS JUDE
D8278 R HALLILEY
B4586 T WEAVER
B7797 N NORTON

Additional Prizes
C9831 BREAKFAST FOR 2 BREWERS FAYRE,PONTEFRACT
A4392 SUNDAY LUNCH FOR 2 AT ,WHEATSHEAF,SHERBURN IN ELMET
A8324 SUNDAY LUNCH FOR 2 AT GLASSBLOWER, CASTLEFORD
B4676 SUNDAY CARVERY FOR 2 AT QUEENS HEAD, AIREDALE
A1395 3 COURSE MEALFOR 2 AT SINGING CHOCKER, GLASSHOUGHTON
C5455 TIGERS £20 SHOP VOUCHER
C5965 SALON VIP CUT&BLOW VOUCHER
B9459 PIRATE ISLAND ADVENTURE GOLF, JCT 32
C6956 JEWELLERY BY BARBARELLA
B5635 PAIR OF SEATING TICKETS
Match Day Tickets

B0111, B8274, C3735, A5833

Agents Prize 

031 CHRIS PEASE